CSEAS Special Seminar on December 4
2014/12/04 @ 4:00 PM

-

6:00 PM
Event Navigation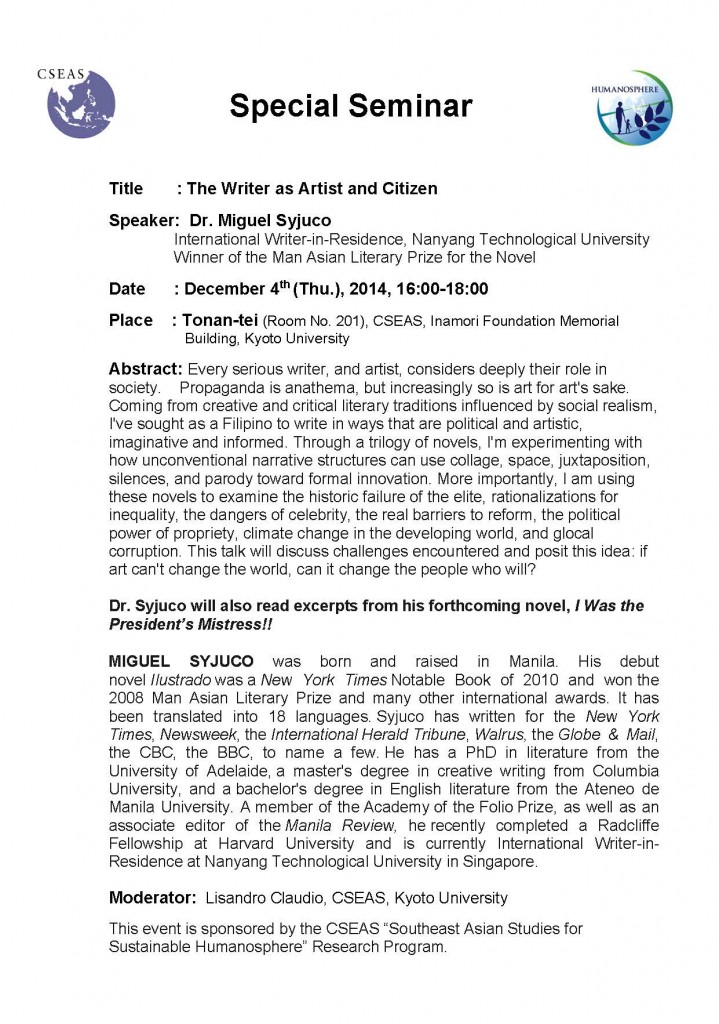 Title: The Writer as Artist and Citizen
Speaker: Dr. Miguel Syjuco,
International Writer-in-Residence, Nanyang Technological University Winner of the Man Asian Literary Prize for the Novel
Date: December 4th (Thu.), 2014, 16:00 – 18:00
Place: Tonan-tei (Room No. 201), CSEAS, Inamori Foundation Memorial Building, Kyoto University
Abstract:
Every serious writer, and artist, considers deeply their role in society. Propaganda is anathema, but increasingly so is art for art's sake. Coming from creative and critical literary traditions influenced by social realism, I've sought as a Filipino to write in ways that are political and artistic, imaginative and informed. Through a trilogy of novels, I'm experimenting with how unconventional narrative structures can use collage, space, juxtaposition, silences, and parody toward formal innovation. More importantly, I am using these novels to examine the historic failure of the elite, rationalizations for inequality, the dangers of celebrity, the real barriers to reform, the political power of propriety, climate change in the developing world, and glocal corruption. This talk will discuss challenges encountered and posit this idea: if art can't change the world, can it change the people who will?
Dr. Syjuco will also read excerpts from his forthcoming novel, I Was the President's Mistress!!
Bio note:
MIGUEL SYJUCO was born and raised in Manila. His debut novel Ilustrado was a New York Times Notable Book of 2010 and won the 2008 Man Asian Literary Prize and many other international awards. It has been translated into 18 languages. Syjuco has written for the New York Times, Newsweek, the International Herald Tribune, Walrus, the Globe & Mail, the CBC, the BBC, to name a few. He has a PhD in literature from the University of Adelaide, a master's degree in creative writing from Columbia University, and a bachelor's degree in English literature from the Ateneo de Manila University. A member of the Academy of the Folio Prize, as well as an associate editor of the Manila Review, he recently completed a Radcliffe Fellowship at Harvard University and is currently International Writer-in-Residence at Nanyang Technological University in Singapore.
Moderator: Lisandro Claudio, CSEAS, Kyoto University
This event is sponsored by the CSEAS "Southeast Asian Studies for Sustainable Humanosphere" Research Program.
Man Asian Literary Prize Winner Dr. Miguel Syjuco Gives a Special Seminar in CSEAS
CSEAS Kyoto University welcomed Filipino writer Miguel Syjuco on December 4, 2014. Dr. Syjuco is the author of the novel, Ilustrado (2010), which won the Don Carlos Palanca Memorial Prize in the Philippines and the Man Asian Literary Prize, and has been translated into sixteen languages, including Japanese. Dr. Syjuco gave a Special Seminar in CSEAS on "The Writer as Artist and Citizen," and talked about his experiences and his approach to the writing of his novels. He also read excerpts from his second, soon-to-be published novel I was the President's Mistress!! This seminar was moderated by CSEAS Postdoctoral Fellow Dr. Lisandro Claudio and was sponsored by CSEAS' "Sustainable Humanosphere in Southeast Asia" Research Program.
Special Seminar by Dr Miguel Syjuco at CSEAS
Right to left, CSEAS Postdoctoral Fellow Lisandro Claudio, Dr. Miguel Syjuco and Edith Syjuco, with Filipino graduate students from Kyoto University and Doshisha University.