Conference venue
International Science Innovation Building, Main Campus, Kyoto University Yoshida-honmachi Sakyo-ku, Kyoto
Accessto the University: http://www.kyoto-u.ac.jp/en/access/
Accessto the venue: http://www.kyoto-u.ac.jp/en/access/yoshida/main.html (No. 69)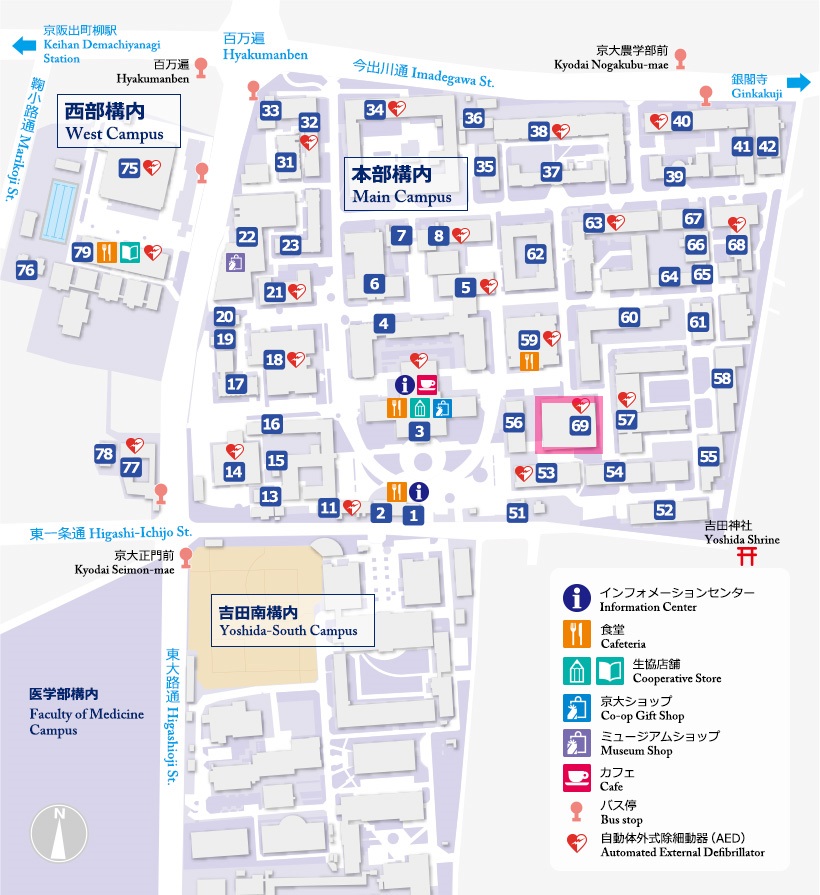 Floor Plan: https://impact.jst.go.jp/sympo/yagi/access.pdf
Transportation to Kyoto
From Kansai International Airport (KIX):
・By train
Overseas travellers can fly into Kansai International Airport and then get a train to Kyoto. Kansai Airport Station is located opposite the arrival lobby where the Japanese Rail (JR) West Haruka Kansai Airport Limited Express Train can be caught. The best and fastest way to get to Kyoto from the airport is to buy a one-day JR West Kansai Area Pass[1] and take the Haruka Limited Express (non-reserved tickets only). The Haruka Limited Express takes about 77 minutes, with trains leaving every 30-60 minutes. The pass is for foreigners only and costs ¥2,300, which is ¥680 less than a regular Haruka Limited Express ticket from the airport to Kyoto. You will need to show your passport, as well as a copy of your foreign-bound return flight, when purchasing a ticket.
JR Haruka
http://www.westjr.co.jp/global/en/ticket/icoca-haruka/#kansai-airport
Other train routes
http://www.kansai-airport.or.jp/en/access/index.html
・By bus
Comfortable limousine buses run from the airport to Kyoto Station, takes about one and a half hours (or longer when there is traffic (about 90 – 135 minutes)). And there are hourly buses going into the city center which makes you easily access to the conference venue. (Note that JR Kyoto Station is rather far from the city center.) The ticket costs ¥2,550. Bus tickets can be purchased outside of the airport's arrival lobby on the first floor. (just go straight when you leave customs through the "North gate"). The buses leave from bus stop #8, which is located directly opposite the ticket vending machine.
Airport Limousine:
http://www.okkbus.co.jp/en/timetable/kix/t_kyt.html
・For those who will arrive very late at night
The last train going directly to Kyoto departs at 22:16, and the last limousine bus for Kyoto departs at 23:55. If you miss those public transit, you'll have to take a taxi or stay a night at KIX. Be careful taxis to Kyoto will be quite expensive. There are also shared ride taxis (see the bottom of this page ).
From Itami Airport
Located in northern Osaka, Itami Airport is one of the largest domestic airport. Travelers from other areas in Japan will most likely arrive here. The easiest way to get to Kyoto Station from Itami Airport is by limousine bus No. 15. The trip takes about an hour and costs ¥1,310. The buses run three times an hour. Alternatively, you can take a combination of monorail and train, which requires at least two changes (monorail to Hotarugaike, Hankyu Takarazuka Line to Juso, Hankyu Kyoto Line to Kyoto) but costs just ¥650 and can be completed in an hour. Whereas the Limousine Bus will leave you at Kyoto Station in the southern part of Kyoto, the Hankyu Railway runs to Shijō Street in the city center.
Airport Limousine:
http://www.okkbus.co.jp/en/timetable/itm/t_kyt.html
Other train routes:
http://www.osaka-airport.co.jp/en/access/
From Tokyo
If you flew into Tokyo (Narita Airport or Haneda Airport) and didn't transit to the domestic flight to Itami, the easiest way to come to Kyoto is the Shinkansen bullet train. Nozomi trains take approximately 2 hours to Kyoto and costs ¥13710 one-way. The trains are equipped with vending machines and attendants selling snacks. Hikari trains, which run less frequently and make a few more stops, cover the trip in around 2.45 hours. Only the Hikari and the Kodama(all-stations train) can be used by Japan Rail Pass holders at no charge.