Tranquility and Movement in Colors: Contemporary Art by Yu Hyang Lee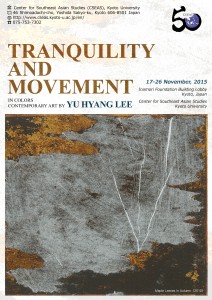 The Center for Southeast Asian Studies, Kyoto University is proud to present a contemporary art exhibit showcasing moe than 30 pieces of work by Yu Hyang Lee. The exhibit will take place from November 17 (Tue) to 26 (Thurs), 2015 in the lobby of the Inamori Foundation Memorial Building.
Yu Hyang Lee was born in Seould, South Korea in 1946. She apprenticed and learned Chinese brush paintings under the renowned artist Wei-Yi Chi. She combines eastern East Asian styles with Western contemporary art forms to create a unique vision. Her art works have been featured on book covers as well as event posters. In May 2013, her solo exhibition titled Yu Hyang Lee's Abstract Art was held at the Topline Gallery in Taipei. A book of her paintins was also published in the same year. Thisis the artist's first exhibition in Japan.
The exhibit will be held in the lobby of a building. It is open to anyone, and the admission is free.
Tranquility and Movement in Colors: Contemporary
Date & Hours: November 17 (Tue)- 20 (Fri), 24 (Tue)-26 (Thu) 09:00-17:00
Date & Hours: November 21 (Sat)-23(Mon) 10:00-16:00
Admission fee: Free
Venue: Inamori Foundation Memorial Building
http://www.kyoto-u.ac.jp/ja/inamori/